Today I would like to share with you some more layouts I've been making for the challenge over at the
scrapotheekforum.

Vandaag wil ik jullie wat lootjes laten zien die ik gemaakt heb voor de kwartaalchallenge op het scrapotheekforum.
Here we had to use a picture from ourselves with our partner;
Hier vinden jullie een layout gemaakt met een foto van jezelf met je partner;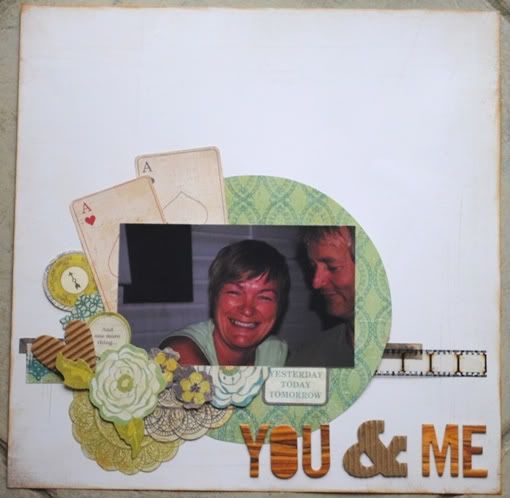 Gebruikte materialen;
Cardstock; wit basic grey basics, p.p; crate paper restoration, stickers restoration, filmstrip tim holtz, chipboard letters van cosmo cricket en corrugated shapes van jillibean soup.


For the following layout you had to use some chipboard and alter it in some way using paint, papers etc.
Voor het volgend lootje moest je chipboard gebruiken en dit op een of andere manier bewerken, bijv. met verf, inkt of papier.
I used some chipboard letters and first painted them with gesso. Then used some distressinkt and sprayed water on them. So it seems as if there are waterdrops on it.
Ik heb chipboard letters gebruikt en deze eerst bewerkt met gesso. Vervolgens ingekleurd met distressinkt en besprayed met water. Nu lijkt het net alsof er waterdruppels op zitten.
Gebruikte materialen;
Cardstock; basic grey basics wit, diecut van little yellow bicycle twig, letterstickers van october afternoon, zwarte fineliner, transparante glasparels, heidi swapp mask, stempels l'encre et l'image, chipboard letters.