Over at the scrapangelsforum we have already the 4th blind scrap. Number 2 and # I haven't shown here so today you get two layouts.
Op het scrapangelforum start alweer de 4de blinde scrap. Ik heb nummer 2 en 3 hier nog niet laten zien dus vandaag heb ik wederom twee lootjes voor jullie.
Blind scrap # 2 was hosted by me so here is the description;
De blinde scrap # 2 was door mij uitgezocht en hierbij de beschrijving;
We beginnen met de bovenzijde van de layout;
Plaats een dunne enigszins gegolfde strook designpapier over de hele lengte van het cardstock. ( horizontaal)
Hieronder van een ander design een schuine strook papier tot ongeveer de helft van de eerste strook.
Bovenop deze beide stroken maak je een groepje van embellishments, stickers, washi-tape, knoopje etc.
Onder dit geheel een paar spatten met glimmermist.
Over naar het midden van de layout;
Neem een groot stuk designpapier van ongeveer 26 bij 17 cm en plaats dit helemaal rechts op het vel cardstock.
Plak hierop een grote liggende foto van 18 x 13 cm. ongeveer 1 cm vanaf de linkerkant van het designpapier.
Versier dit geheel in de linkerbovenhoek met een flinke groep aan embellishments, stickers, labels, rondje etc.
Aan de rechterkant van de foto maak je iets onder het midden van de foto ook nog een groepje embellishments maar dan wat kleiner.
Blijft de onderkant van de layout over.
Maak hier dezelfde opbouw als aan de bovenkant maar dan gespiegeld dus het groepje embellishments zit aan de rechterkant.
Tussen de foto en de onderliggende stroken maak je een titel met bijvoorbeeld stickers.
The layout from
Lilith eckels
the description was based upon;
Het lootje wat ik had uitgezocht;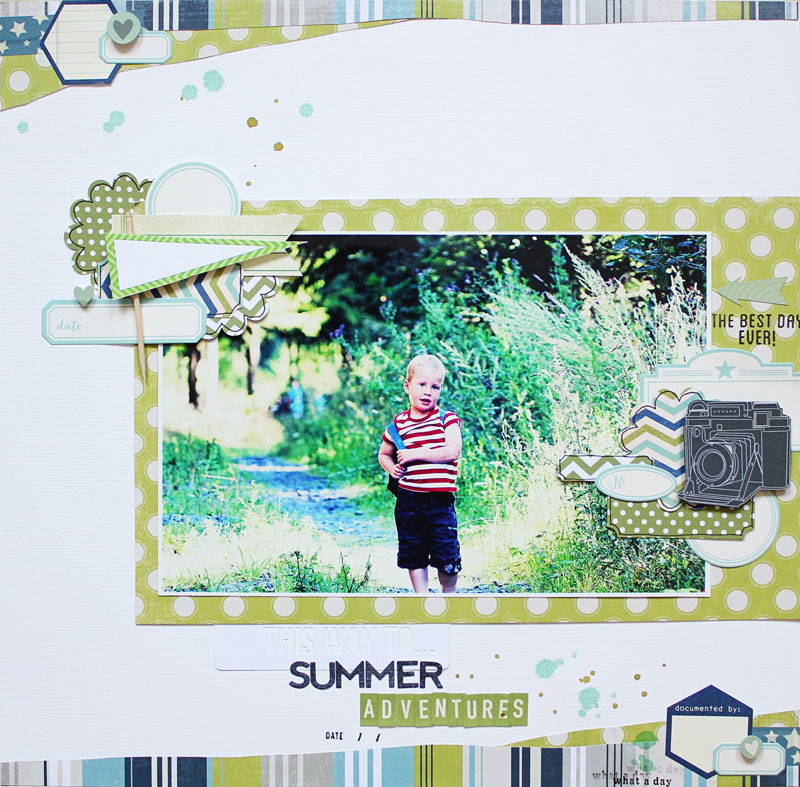 My take;
mijn uitvoering;
Gebruikte materialen;
p.p; studio calico, letterstickers pink paislee, stickers van simple stories snap, stempels l'encre et l'image.
Blind scrap # 3 was hosted by Maria.
De blinde scrap #3 werd uitgezocht door Maria.
Here the description;
Hierbij de beschrijving;
Neem een vel kraft als achtergrond.
- Stempel hierop een baan van ongeveer 16 cm breed, in het midden van het vel van boven naar beneden , met achtergrondstempels, swirls en/of tekststempels.
- Maak 6 vierkanten van gedessineerd papier van 7 bij 7 cm. En pons midden boven een halve cirkel uit.
- Plak of naai deze vierkanten op de stempelbaan , laat de bovenkanten open zodat het vakjes worden. Plaats ze in twee banen naast elkaar en drie vakjes onder elkaar .
- Doe een tag in de vakjes (of in een paar).
- Versier 3 vakjes met een vierkante foto van 6 bij 6 cm. (gemat op cardstock).
- Versier de vakjes verder met bloemen, hartjes en andere embellishments. (Dit mag ook gedeeltelijk naast de vakjes)
- Versier het geheel verder met stras steentjes en kleine kraaltjes.
The layout the description was based upon.
Het lootje wat bij de beschrijving hoorde;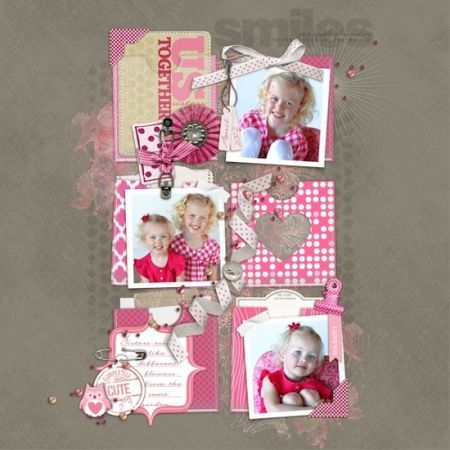 My take;
En dit maakte ik ervan;
Gebruikte materialen;
Cardstock; kraft bazzill, p.p; teresa collins, stickers simple stories snap, tags, martha steward vlinderpons, letterstickers, stempelachtergrond papertrey ink, wit/zwart twine.