Another blind scrap card over at the scrapangelsforum this time it was a card placed by Ingen.
En weer een leuke blinde scrap kaart op het scrapangelsforum, dit keer een kaartje uitgezocht door Ingen.
The description;
De beschrijving;
Het is een staande rechthoekige kaart.
Op de achtergrond gebruik je 5 gelijke stroken design papier die je gelijkmatig verdeeld over de achtergrond maar de stroken raken elkaar niet.
Rondom blijf je de buitenste rand van de kaart zien.
Daarover is aan de linker kant ongeveer 1 cm vanaf de rand is een fishtailflag geplaatst.
In de linkerbovenhoek van de fishtail begint een vlaggetjeslijntje dat helemaal recht eindigd in de rechteronderhoek van de bovenste strook.
Links iets boven het midden is een cirkel met een afbeeldig geplaatst. Dit kan een stempel, een stans of een plaatje zijn.
Rechts onder de afbeelding is een ovaal met een tekst geplaatst.
Een klein stukje onder de cirkel en het ovaal met tekst is een lint geplaatst met de strik helemaal links.
Here the card the description is based upon.
Hierbij het kaartje waarop de beschrijving is gebaseerd.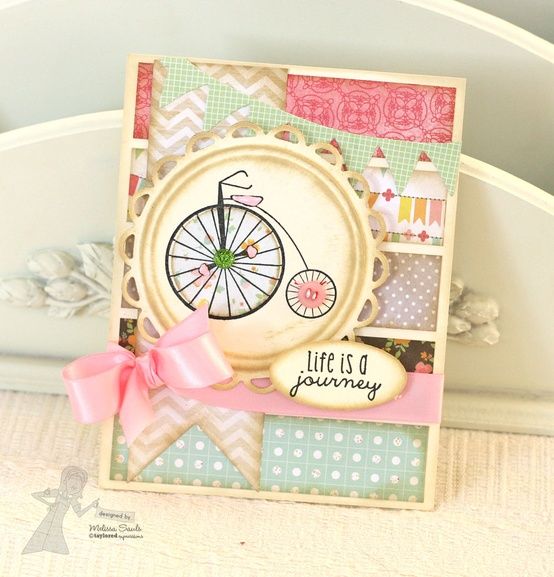 My take;
Mijn uitwerking;
Gebruikte materialen;
Cardstock; kraft en wit bazzill, p.p; my mind's eye, papertrey ink dies en stempels, houten vlinders, roze kreukellint, vlaggetjesdie la la land crafts.